Drink Service With A Difference
Add an extra "WOW" factor to your reception and surprise your special guests with one of these innovative bar tending techniques on your wedding day. Whether it be bartenders hanging from the ceiling, tables that have a life of their own or waiters who suddenly become singers, these amazing acts are sure to add a touch of magic to your day.
Mixing an astonishing circus act with the romance of champagne, aerial bartenders are a high impact way to capture guests' attention as they arrive at your drinks reception. Beautiful aerial dancers with many years of experience performing worldwide pour champagne, or any other pre-prepared cocktail, whilst suspended upside down high above your guests in aerial hoops or harnesses.
A brilliant idea to turn the essentials into the entertainment on your most special day with this latest trend in bartending.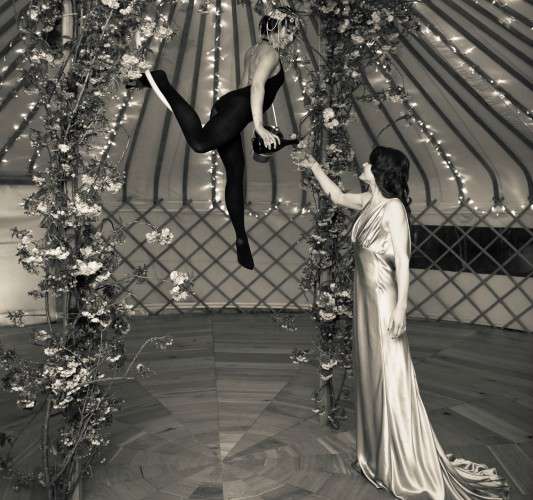 A fabulous choice for your wedding is this highly visible entertainment in a wide range of characters and costumes. Colourful, vibrant, sophisticated, unusual and stylish, stilt-walking champagne servers will interact with your guests, pose for photos and entertain as they go!
Choosing stilt-walking bartenders will add fun and a touch of the bizarre to your wedding that will be head and shoulders above the rest.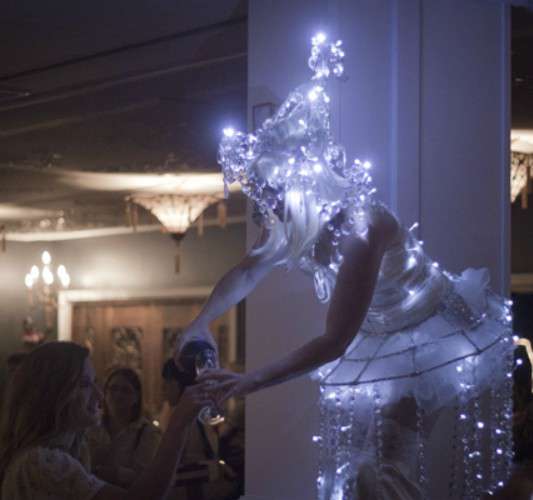 Highlight your special day by choosing this creative and elegant alternative to bring some extra excitement to your day. Let your guests be greeted by these dazzling costumed models, circirling your reception and serving champagne that will surprise everybody and create a great photo opportunity. They will certainly make an impression and be a huge hit at your wedding.
The perfect way to welcome your guests to your reception are these totally spontaneous singing waiters!
They will greet your guests on arrival by posing as real staff, dressed in the same uniform and working alongside the real waiters or catering team. These special bartenders will suddenly burst into song with no warning giving your guests a joyous surprise. Singing waiters and waitresses will be sure to create moments your guests will love and deliver a surprise which injects some extra fun into your wedding.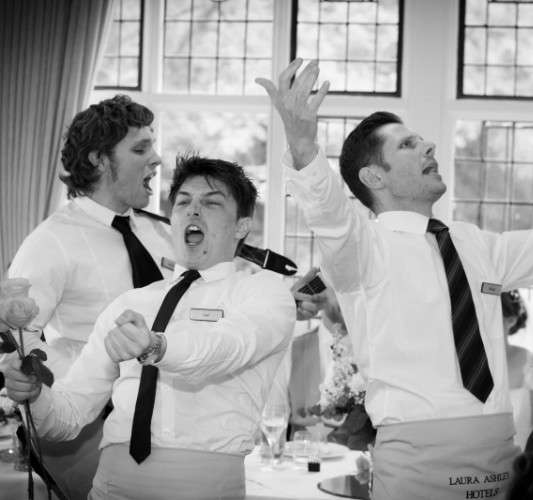 Bring your drinks reception to life with our amazing living tables, making a unique centre piece at your wedding! The tables will entertain in the character of your choice and will create an exciting buzz whilst meeting and greeting your guests on arrival with their first cocktail or appetizer of the day. Living tables can also serve refreshments or canapes to your guests.
A one-of-a-kind experience that will give your guests a lot to talk about, perfect if you are looking for something different.